If you're dreaming of a serene seaside getaway, look no further than the beautiful Blue Flag beaches of the UK. Nestled amidst stunning coastal landscapes, these pristine stretches of sand offer more than just picturesque views and soothing waves. So what are the benefits of cottage holidaying near a Blue Flag beach in the UK? And where are they? Potential locations include Cornwall, Devon, Dorset, Kent, Norfolk, Northern Ireland, Yorkshire and Wales. Get ready to embark on a blissful coastal adventure.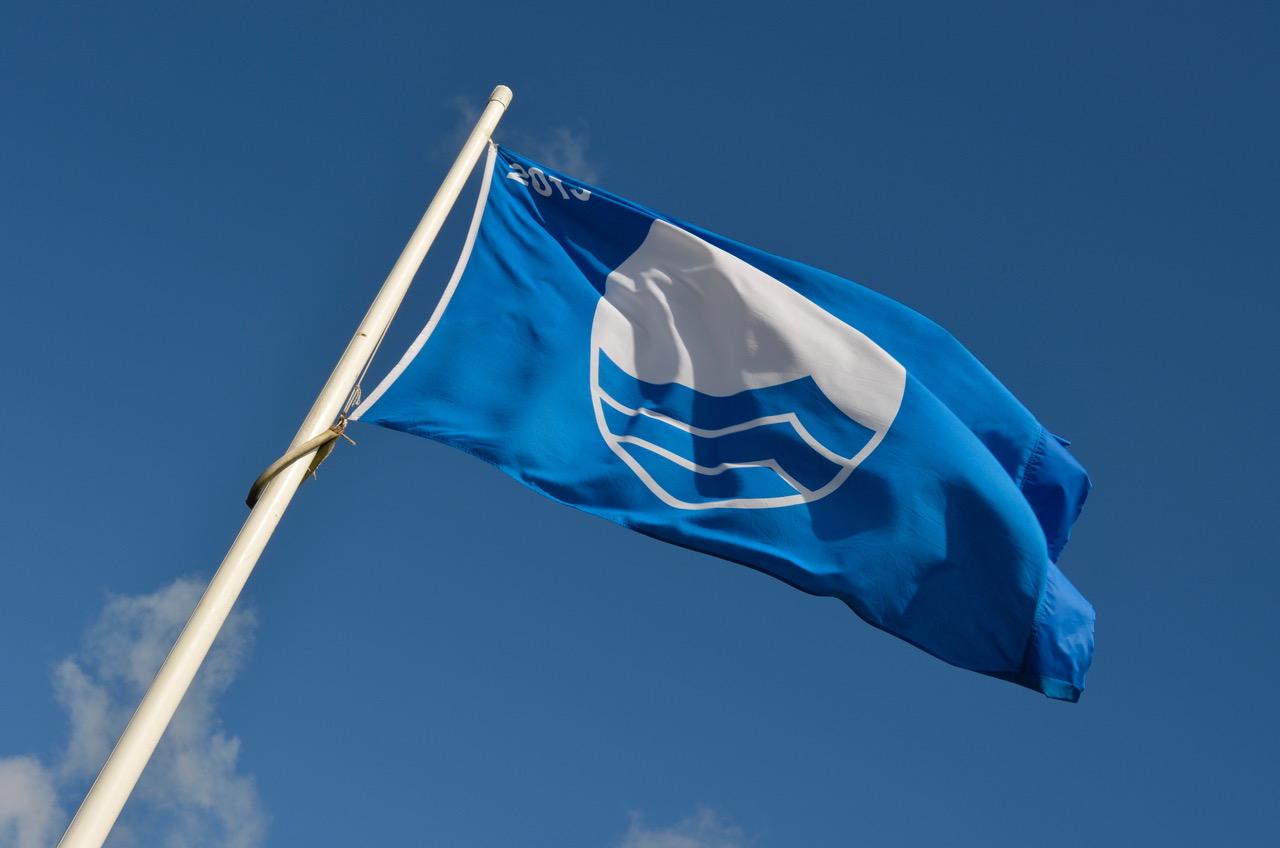 What Are Blue Flag Beaches? 
Blue Flag is an internationally recognised eco-label awarded to beaches that meet stringent standards for water quality, environmental management, safety, and services. It serves as a symbol of cleanliness, sustainability, and excellent beach management. The Foundation for Environmental Education (FEE) administers the Blue Flag program, and beaches must meet a set of strict criteria to earn this prestigious status. In 2023, 77 UK beaches were awarded the Blue Flag, 37 of which are in the South West.
Benefits of Cottage Holidaying near Blue Flag Beaches:
Pristine Beauty: Blue flag beaches are known for their natural splendour. With soft sands, crystal-clear waters, and breathtaking vistas, these beaches provide the perfect backdrop for a relaxing holiday. You'll find it all at these coastal gems, whether you're seeking a quiet escape or an adventurous beachside experience.
Water Quality and Safety: One of the primary benefits of Blue Flag beaches is the assurance of high water quality and safety standards. The beaches undergo regular monitoring to ensure the water is clean and safe for swimming. Lifeguards are often present during peak seasons, providing peace of mind for families and water enthusiasts.
Environmental Responsibility: Blue Flag beaches are committed to preserving the local environment. These beaches have strict policies to protect the natural habitats, wildlife, and ecosystems surrounding them. By choosing a cottage near a Blue Flag beach, you actively contribute to the conservation efforts and support sustainable tourism practices.
Recreational Activities: Cottage holidaying near a Blue Flag beach offers various recreational activities for all ages. Whether building sandcastles, flying kites, surfing, kayaking, or simply strolling along the shore, there's something to cater to everyone's interests. Many beaches also provide facilities for beach volleyball, picnicking, and coastal walks, ensuring a fun-filled experience for all.
Are you looking for a holiday Cottage near a Blue Flag Beach?
The South West offers the most Blue Flag beaches; however, there are plenty elsewhere.
Cornwall: Renowned for its stunning coastline, Cornwall boasts several blue flag beaches. Some popular destinations include Polzeath, Porthtowan, Summerleaze, and Widemouth Bay. From the picturesque harbours of St. Ives to the dramatic cliffs of Land's End, Cornwall offers a diverse range of landscapes to explore.

Devon: With its charming coastal towns and rugged beauty, Devon is another fantastic choice for a cottage holiday near a Blue Flag beach. Enjoy the idyllic charm of beaches like Beer, Blackpool Sands, Croyde Bay and Exmouth, or explore the breathtaking Dartmoor National Park, which lies just a short distance inland.
Dorset: Beautiful locations on offer, including Weymouth and Westward Ho!
Kent: Joss Bay, St Mildreds and Margate
Norfolk: The Norfolk coastline offers a tranquil retreat for those seeking a cottage holiday near Blue Flag beaches. Explore the sands at West Runton or visit the charming seaside towns of Cromer and Sheringham.
Yorkshire: Fabulous countryside, glorious coastline! How about Scarborough or Whitby?
Northern Ireland: Northern Ireland's coastline is blessed with captivating Blue Flag beaches. Take a trip to Castlerock Beach, the sandy shores of Tyrella Beach, or the picturesque Whiterocks Beach. The Giant's Causeway and the stunning Antrim Coast are must-see attractions nearby.
Wales: The stunning coastline of Wales offers a multitude of Blue Flag beaches. Consider locations such as Pembrokeshire's Tenby South Beach, Poppit Sands or Newgale, and the sandy shores of Aberporth or Borth in Ceredigion. Wales is also known for its fascinating history, with ancient castles and charming villages waiting to be explored.
Cottage holidaying near a blue flag beach in the UK offers a host of benefits for beach lovers and nature enthusiasts alike. From pristine beauty and water quality to environmental responsibility and a wide range of recreational activities, these coastal getaways provide the ideal escape from the hustle and bustle of everyday life. With an array of potential locations in Cornwall, Devon, Dorset, Norfolk, Northern Ireland, Yorkshire and Wales, you can discover your own slice of paradise and create memories to last a lifetime. So, pack your bags, leave your worries behind, and immerse yourself in the serene bliss of a cottage holiday near a Blue Flag beach.